Video Editing is something that every other person that uses social media platforms in 2019 comes across. And in this article, We'll be listing some of the best free video editing software you should know about and use.
Editing videos to suit one's preferences has become a task not only for professionals but for the common man too.
From editing videos for your own leisure projects to creating content for professional reasons, a lot of people are on the lookout for legitimate video editing software that will get the work done.
However, finding the right fit for your needs can prove to be a long and arduous task for most people.
While popular and generic editing software like Adobe Premiere Pro or Adobe After Effects are industry standard, these cannot be used by everyone owing to the fact that they come along with a price tag attached.
There are a lot of apps and software out there that do not demand the user to make a payment.
But choosing one such software from the large number of similar ones can be confusing.
The internet is a dump yard of advertisements for what the creators or developers think the best software for your own use is.
While the entire process of video editing is something to commit to, finding suitable software is the first and most important step.
And it should be taken seriously.
Hence, to help make this crucial decision of yours easier, here are 12 video editing software that are absolutely free.
And are actually worth testing out.
Openshot is one of the most famous free video editing software.
It used by a number of people for a whole bunch of reasons.
The Openshot project was started in 2008, after inspiration struck founder Jonathan Thomas by means of installing Ubuntu.
It includes a lot of features and functions that enable the user to create the kind of content that they would like to see.
It performs both basic and advanced functions, making it useful for all kinds of people.
According to the official website –
Openshot is a "cross-platform video editor, with support for Linux, Mac, and Windows", with many key features such as trim and slice, animation and keyframes, unlimited tracks, video effects, audio waveforms, title editor, 3D animations, slow motion, time effects, and a provision of 70+ languages.
"Openshot is entirely open source. It may remind some Mac users a little of iMovie with its easy to use drag and drop interface. However, Openshot packs more features than iMovie, including unlimited layers and audio mixing. This free editor strikes a nice balance between advanced features and a simple interface. It also allows real-time previews when you create transitions between clips.", says Oberlo.
It is lauded for its ease of use and the provision of so many important technical features that any user could ask for.
And it totally free.
The current version of this video editing and processing software, released in August this year, is the rage amongst the community.
"Avidemux is a free video editor designed for simple cutting, filtering and encoding tasks. It supports many file types, including AVI, DVD compatible MPEG files, MP4 and ASF, using a variety of codecs. Tasks can be automated using projects, job queue and powerful scripting capabilities.", says the creators.
While this software cannot perform advanced or complicated tasks due to the lack of many features that other professional video editors provide, it can be used for all of your basic editing needs like cutting, merging, filtering etc.
It is an extremely uncomplicated free video editing software.
And is the best one yet for all the video editing beginners out there.
Though it is very basic in functionality, it can still be used as a great starting point in your editing journey to hone your skills or test the extent of your editing knowledge.
Professionals can also play around with this free video editing software to figure out new techniques or understand old ones better.
Something that is a great advantage and a selling feature of this software.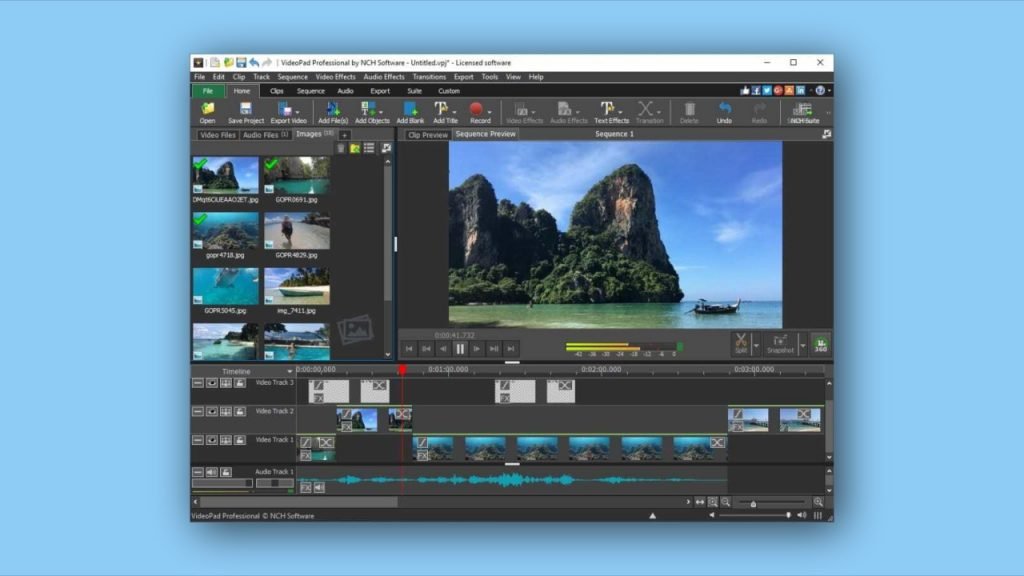 Developed by NCH software, Videopad is a free video editing software that is used by professionals and amateurs and is held in high regard by editing enthusiasts.
Enhanced with VirtualDub plugins, this software does all the functions of a high price video editing software and more.
"Designed to be intuitive, VideoPad is a fully featured video editor for creating professional quality videos in minutes.", the official site says.
The software supports most video formats and provides many useful features to the user like great transitions, effects, filter etc all while performing all the mundane editing tasks that one might wish for.
The software is easy to use, having audio and playback options.
The final project can also be shared easily with other since one can easily "burn to DVD and watch on your TV, share online or directly to YouTube, save to PSP, iPod, iPhone or 3GP mobile phone, edit 360 videos for YouTube and VR headsets, export movies in multiple resolutions including full HD, 2K and 4K (720p, 1080p, 1440p, 2160p and more)".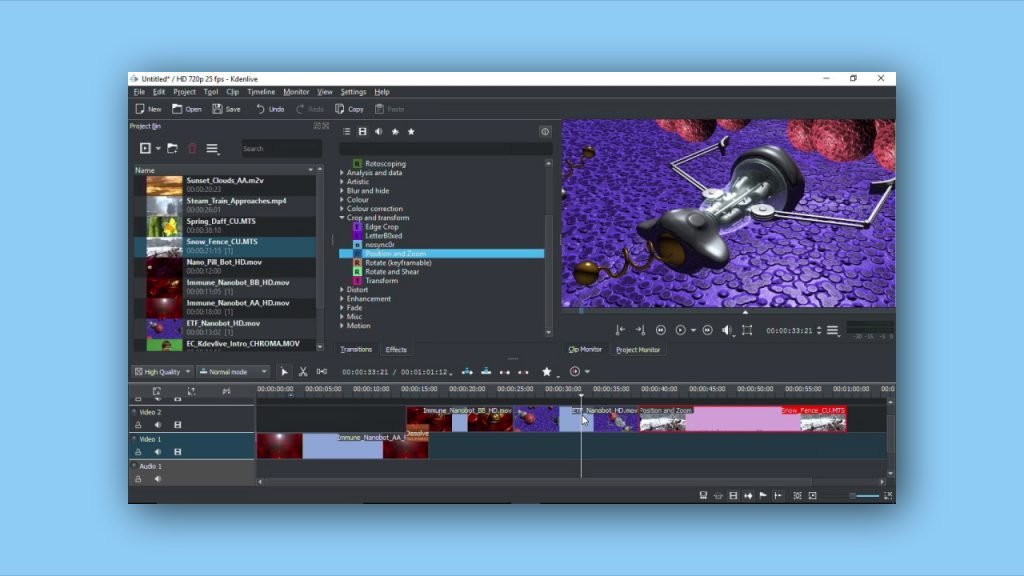 Kdenlive was found in 2002 by Jason Wood.
It is yet another open source software that is available for use free of charge.
Kdenlive is a non-linear video editor, which means the original footage that you upload onto the software is not tampered with, modified or damaged in any way.
It is a software that can be used by people that wish to play around yet get their content to where they want it to be.
Kdenlive lists the following as the software's key features:
Intuitive multitrack interface.
Many effects and transitions.
Color scopes
Basic DVD Wizard
Shotcut, like Openshot, is a cross platform free video editing software.
It can be used and integrated in multiple computing platform.
Shotcut is great for carrying out most of your editing needs since a lot of things can be done under one roof.
This free video editing software can also be used as complementary software along with other software.
This video editing software comes with simple instructions so it is not complicated to figure it out and editing can be done in a very simple and hassle free way.
It supports a variety of formats, has device and transport option and an intuitive interface.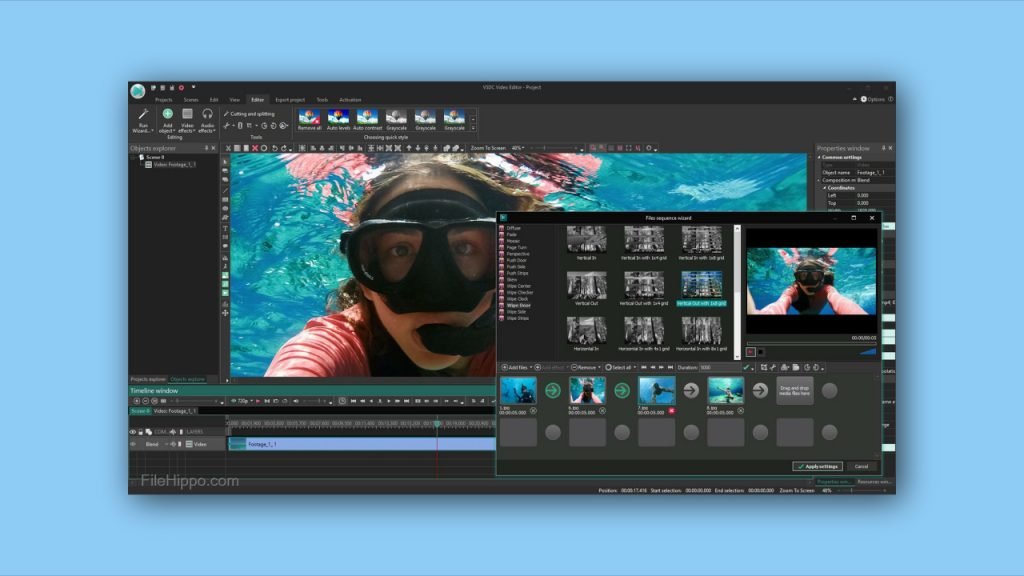 Developed by Flash Integro, this is a non linear video editing application that is quite new to the market.
That being said, it has gained immense popularity in the two months since its release.
One of the main perks of this software is that it is capable of processing high resolution footages like 4K UHD, 3D and VR 360-degree videos.
The developers mention its multifunctionality and high speed as two of its main features.
Some other features that they use to describe VSDC are:
Free video editing software that allows you to edit video files and create videos of all types. It supports the most popular video/audio formats and codecs, including DVD, HD and GoPro videos. Preconfigured profiles make the creation of videos for various multimedia and mobile devices a snap.
The video editor offers a number of versatile features both for home and business use: text and audio overlay, an array of charts and diagrams as well as a slideshow maker.
Non-linear editing system. It means that video files and images do not necessarily have to follow a specific sequence – they can be in various places at any point of time. Besides, all objects can change their properties, shape and position in time.
Hardware acceleration, multi-color Chroma Key, adjustable parameters settings and enhanced resolution make VSDC a real time and effort saving tool allowing for creating large size HD videos in a few minutes instead of hours.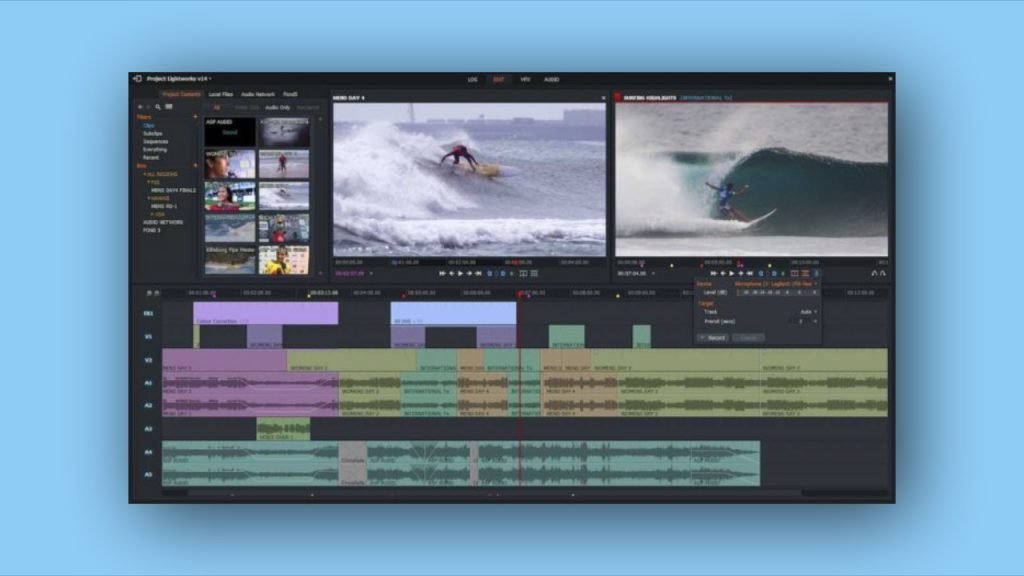 This professional video editing software can be used by people to edit footages that are uploaded onto it in almost all popular video formats.
The newest updated software is available for free download
Lightworks mentions that films like The Wolf of Wall Street, LA Confidential, Pulp Fiction, Heat, Road to Perdition, Hugo and The King's Speech used their software for their editing needs.
It is famous amongst professionals with the release of the new 14.5 version giving room for amateurs and everyone in between to try their hand at the software.
The features that Lightworks mentions are:
Simple & intuitive User Interface
Access amazing royalty-free audio & video content
Easy timeline editing & trimming
Lo-Res Proxy workflows for 4K
Real time ready to use audio & video FX
Export video for YouTube/Vimeo, SD/HD, up to 4K
Wide file format support including variable frame rate media
Grade your sequence professionally utilising up to 32bit GPU precision and histogram tool
DaVinci Resolves, which was developed by Blackmagic Design is termed as a "color correction and non-linear video editing application" and is suitable for use in macOS, Windows and Linux.
It is alleged to be "the world's only solution that combines professional 8K editing, color correction, visual effects and audio post production all in one".
DaVinci is popular amongst people because of the color correction options it provides that many others don't.
It is also non linear, which is rare to find in a software that enables you to tweak with the color composition of the content you import onto it.
Premium Beat mentions the following as the key color grading features of DaVinci resolves:
Automatic Color Matching
Primary Color Adjustments
Secondary Color Adjustments
LUT Support
HSL Curves
Real-Time Noise Reduction (Studio Version Only)
"In a lot of ways, DaVinci Resolve has more tools than the average editor will ever use. The same can not be said about the color features found in Premiere Pro.", they add.
Movavi markets itself as an alternative to iMovie for both Windows and Mac, which comes as a great advantage to Windows user owing to the organization's decision to drop their own version of iMovie, Movie Maker.
It can be termed as an underdog since it is usually not given the credit it deserves for the amount of features it provides to its users.
It is a great software to use if you are looking for something as generic as iMovie but with better functionality.
Movavi lists down the following features:
Simplicity And Functionality
Upload your video into the app, drag it to the working area and start editing right away.
Cut or trim your footage, improve the video quality, increase the speed of the video or create a slow-motion effect, and transform your footage in many other ways.
With this program, you can make a professional-looking movie in just half an hour.
No special skills required!
Dozens of Artistic Effects
Choose among all kinds of visual effects.
You might create a retro style video with the "Old Movie" filter, add a modern touch with "Pop Art", use evocative "Flying Objects" to create a romantic mood, or apply "Vertigo" to give your audience the feeling of going on a psychedelic journey.
More than 160 effects and filters are at your disposal.
A Variety of Stylish Transitions
Help your video flow smoothly by inserting transitions between the different parts.
Movavi Video Editor Plus has fades to fit every style and taste, including the effects of a turning page, unfolding origami, turning pinwheels, and much more.
Transitions are especially helpful when you need to liven up slideshows.
Slideshow Creation Mode
Yes, you can also create amazing slideshows in Video Editor Plus, and you'll be surprised how easy it is!
Just drag your photos to the timeline, insert stunning fades between the stills, even add atmospheric music.
Then invite all your friends to enjoy your "photo movie"!
Titles
More than 100 fonts are available to caption your video.
Experiment with color, size, and other text parameters.
Create titles with animated text, rotate captions in any direction.
Adding titles to your movie will make it even more fun to watch!
Many Supported Formats
Movavi enables you to import and export video and audio in any popular format (AVI, MOV, MP4, MP3, WMA, and many others).
Special presets are provided to save and watch your video on mobile devices (Apple, Android, BlackBerry, Windows Phone, etc.), and a convenient sharing function lets you quickly upload your movies to YouTube.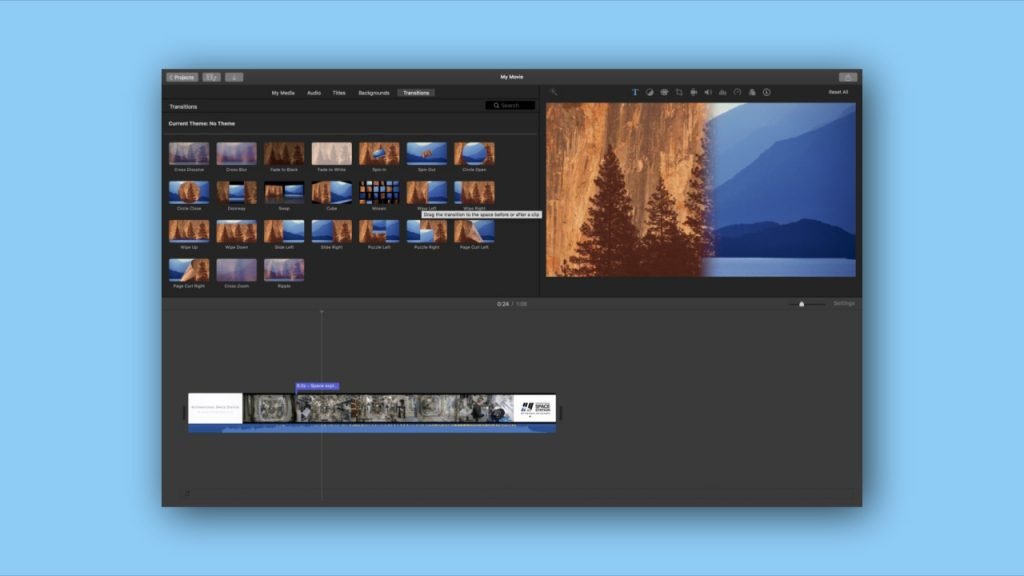 iMovie is by far the most popular free video editing software to ever exist.
Though the biggest con being the fact that it is only available to macOS users, this built in software is a great pick if you are one amongst the said category of people.
"iMovie is a popular video editing software compatible with the MacOS. The software allows users to edit videos from different types of digital cameras, encoded files, and images. It also allows a variety of effect transitions to be added to the videos.", says Filmora.
It is one of the oldest and most used video editing software in the world, if we might say so.
Apple is one of the biggest players in the market and iMovie does not fall short of expectations in any way.
It is of professional quality and can be used to perform multiple tasks with ease.
Studio-quality titles, extra-special effects, high-fidelity filters and simplified soundtracks are some features that the creators mention.
Blender, just like Movavi, is another underdog in the editing world.
It comes with a huge set of features that includes audio syncing, animation and rigging.
Blender can be used by amateurs who wish to perform some functions that are mostly exclusively available for professional video editors.
It comes with a complementary workflow so it can be used along with any other software that you might want to try out or as a standalone video editor too.
According to the creators, "Blender comes with a built-in video sequence editor allows you to perform basic actions like video cuts and splicing, as well as more complex tasks like video masking or color grading."
The Video Editor includes:
Live preview, luma waveform, chroma vectorscope and histogram displays.
Audio mixing, syncing, scrubbing and waveform visualization.
Up to 32 slots for adding video, images, audio, scenes, masks and effects.
Speed control, adjustment layers, transitions, keyframes, filters and more!
HitFilm Express is a free video editing and visual effects compositing software designed for superfast workflow.
With GPU acceleration and 64 bit architecture, this free video editing software offers real-time playback.
HitFilm Express seamlessly combines a huge number of features providing everything you need to finish your editing projects to the end.
Filmora9 is an all in one video editor for beginners and semi-professional editors.
It's intuitive and modern interface makes it a suitable video editor for YouTube creators and other content creation platforms.
With Filmora9, you'll be able to imports source videos, cut, crop, trim, merge videos into one, add effects, stabilize shaky videos, and export with great EASE AND SPEED.
Some of the main features of Filmora9 are:
4K Video Support – With Filmora9, you can import, edit and export 4K UHD resolution videos without compromising on quality.
GPU Acceleration – While most editing software relies on the CPU, Filmora9 GPU acceleration offloads video processing from CPU to GPU, resulting in real-time increase in speed.
Chroma Keying – You can remove green and blue screen backgrounds with the built-in Chroma Keying feature.
Color Correction – Filmora9 offers both creative filters and professional 3D LUTs to give cinematic color effect to your videos.
Video Stabilization – Filmora9 video stabilization tools is great to eliminate camera shake from your videos.
Also Read: