A list of 5 Adobe Photoshop plugins that can save you time, speed up your workflow, and add visual interest to your projects.
Adobe Photoshop is currently the most used editing tool in the market and plugins are a great way to extend its functionality. Photoshop plugins can save you time, speed up your workflow, and add visual interest to your projects.
Although there are hundreds of Photoshop plugins in the online market, only a handful of them can help you get the most out of your investment. It can be confusing to sort out the BEST from the REST.
Therefore, we have come up with a list of 5 Photoshop Plugins that will smooth and speed up your editing workflow.
Configurator Reloaded is a third-party Photoshop plugin by the German developer Thomas Zagler. By using this plugin, you can create and customize panels for Adobe Photoshop.
In these panels, you can add your most important and frequently used Photoshop tools, such as:
All tools (Move Tool, Eyedropper Tool, Brush Tool, etc.)
Commands behind the menu bar (File > New, Filter > Sharpen > Unsharp Mask, Select > Color Range, etc.)
Brush Presets (Thumbnails)
Tool Presets
Actions
Custom scripts
Other helpful commands (Layer Blending Modes, Nik Collection, Topaz Labs, Merge Visible Layer to new Layer, etc.)
Getting started with Configurator Reloaded is very easy.
Download it and run the setup. Then go to Photoshop and navigate to Window > Extensions > Configurator Reloaded.
Next, you have to create a new container. A container will create a new space in the panel where you can start adding your desired Photoshop tools.
You will find all the tools organized into different categories in the Configurator Reloaded panel itself. Simply drag and drop the tools you need into your new container.
You can add as many tools as you like. Just don't forget to rename them to keep things organized. During my time with Configurator Reloaded, it saved me time and helped speed up the workflow.
Visit the official website to know more about it.
Compatibility
Configurator Reloaded is compatible with Photoshop CC 2015, CC 2015.5, CC 2017, CC 2018, CC 2019 and CC 2020. Supported operating systems are both Windows and Mac.
Pricing
TRAIL VERSION
$0
For Photoshop
Free Trial Version
(Almost) full functional
Free Support
FULL VERSION
$54.90
For Photoshop
Fully functional
Free future updates
One-time payment
BUNDLE PS + ID
$87.90
Photoshop & InDesign
Fully functional
Free future updates
One-time payment
The Animator is the first-ever Photoshop plugin for creating text animations. It's the best solution to create beautiful animations for your creative projects.
Its library of animated effects has more than 200+ ready-to-use animations. The animator is a great plugin to speed up your workflow as you don't need any additional software to create animations.
You can animate any object in Photoshop. This includes Layers, Smart Objects, Text, Shapes, Symbols, Titles, Mock-ups, logos, and more. Animations can be exported as GIF, video, and image sequences.
There is a total of 8 categories of animation – Scale, Moving, Rotate, Bounce, Fade, Gestures, Titles, Misc.
Compatibility
Animator Photoshop Plugin is compatible with Photoshop CC 2015.5, CC 2017, CC 2018, CC 2019, and CC 2020. Supported operating systems are both Windows and Mac.
Pricing
Animator plugin costs $19 for a single user to create unlimited end products.
Creating shadows in Photoshop was once a daunting task. But with the Shadowify Photoshop plugin, you can create realistic and natural-looking shadows from scratch.
All settings are customizable, so you can also turn off blur and create some flat shadows like often used in minimalist design. Some of the main features of the Shadowify plugin are:
Full 360° Angle Control
Save & Load Unlimited Presets
Create Soft Blur Transitions
Flat or Realistic Shadows
Unit Values (px, in, %, …)
Works on any Layer Type
Last Settings get loaded at panel start
Quickly change values per drag on the label
Editable via Global Light
Control Gaussian & Motion Blur
You can save your favorite shadow and blur settings as presets, thus speeding up your editing workflow. We have already covered Shadowify in detail in a review article. CLICK HERE TO READ IT!
Compatibility
Shadowify plugin works with Photoshop CC 2015 and higher.
Pricing
You can get this plugin in three different license types:
Personal License – $14
Commercial License – $18
Extended Commercial License – $112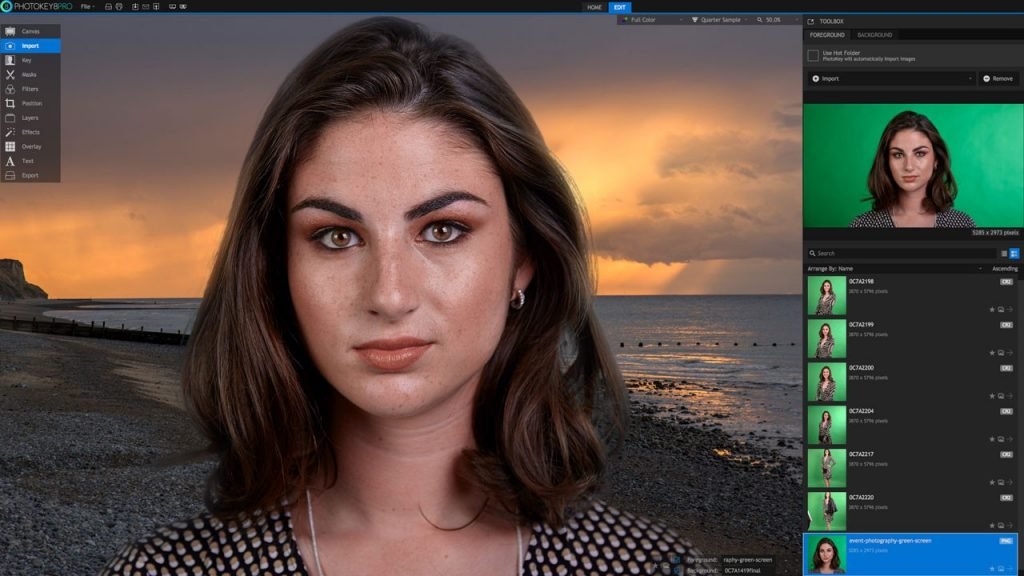 PhotoKey 8 Pro is the green screen software of choice for professional photographers around the world. Providing fast and powerful green screen removal as well as 250 high-quality backgrounds.
PhotoKey can take you and your clients anywhere in the world, delivering professional results every time whether you're in your studio or at a live event. Shooting the green screen has never been easier.
It Includes a fully automatic mode for processing thousands of images and a plug-in for integrating into your Photoshop workflow. PhotoKey Pro includes 250 background images, covering all kinds of themes including Adventure, Beauty, Corporate, studios, and more.
This PhotoShop editing tool is great for removing the blue and green screens from your images.
Compatibility
The photoKey Pro plugin is compatible with Photoshop CS5 and CS6.
Pricing
The total cost of this plugin is $269.
5. Ink
Ink is a plugin for Photoshop that helps you generate layer specifications, shape sizes, colors, text formatting, and so on. It's a great tool for improving communication and speeding up the process of taking your design from idea to production.
All the metadata is embedded directly into your PSD document, for quick and easy reference. And once output, it's all compiled into one handy folder to keep everything neat and tidy.
This workflow helps ensure that the final product is an accurate interpretation of your design, rather than a developer's approximation.
Compatibility
Ink is compatible with Photoshop CC 2018, CC, and CS6.
Pricing
Free to use.
---