Talking about online teaching and learning is simply talking about contemporary education.
In developed countries, the Internet is an integral part of education.
And I am certain that its significance will continue to increase throughout this decade. [toc]
Coming back to the present…
The entire world is under lockdown because of the Coronavirus disease (COVID-19) outbreak.
To contain the spread of this virus, governments around the world have temporarily closed educational institutions.
Impacting around 90% of the world's student population.
To minimize the impact, online teaching and learning are now playing a huge role in helping out parents, teachers and school administrators facilitate distance learning.
UNESCO has published a list of educational applications, platforms, and resources to facilitate the continuity of education through remote learning.
As a matter of fact, our friends at Creative Market have come up with a huge collection of graphics and templates for online teaching and learning.
Creative Market Design Resources For Online Teaching And Learning
Great design is what Creative Market stands for.
Therefore, to help parents and teachers educate children at a distance, they have come up with ready-to-use design resources for online teaching and learning.
With their graphics, templates, and worksheets, you can create online lessons in no time.
Also, they are easy to customize in tools like Microsoft Word, PowerPoint, and Canva.
These educational design resources are sorted by subjects such as:
Arts & Music
English Language Arts
Foreign Languages
Mathematics
Science
Social Studies & History
As well as by grade levels from:
Pre-K to 2nd grade
3rd to 5th grade
6th to 12th grade
Graphics And Templates By Subjects
Arts & Music
These online learning and teaching resources can be used to encourage children to develop their creative talent and imagination.
1. Finger Prints Art
This template can be used to create art activities for children.
Use the characters and doodle and follow the step-by-step instruction for creating the magic world.
The tasks teach your kids how to make different animals, modes of transport, and insects.
You will get:
17 animals + 17 doodles
9 step-by-step instructions
17 animals faces + 17 doodles
21 modes of transport + 21 doodles
17 insects + 17 doodles
2. Games & Activities For Kids Vol. 2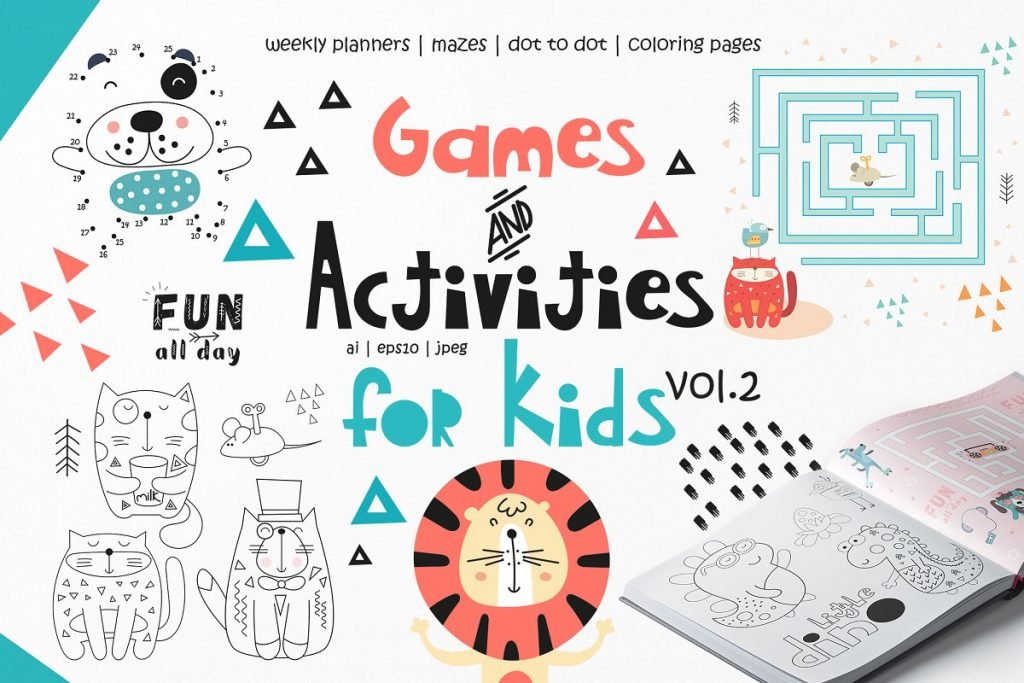 This Collection includes weekly planners with cute dinos, cats, cool dogs and jungle animals, mazes, dot to dot games, and coloring pages.
Make learning fun with this collection of mini-games for children.
It's a perfect addition to a nursery and a home. All vector files are saved in EPS10.
You will get:
printable weekly planners with mini games
cute mazes
coloring pages
dot to dot games
kids diplomas
3. Cut & Glue Robot Vector
Cut and glue robot toy vector illustration, worksheet. Papercraft and DIY riddle with cartoon robotic character for preschool kids.
Cut Out activity for children.
4. Dot To Dot Games Collection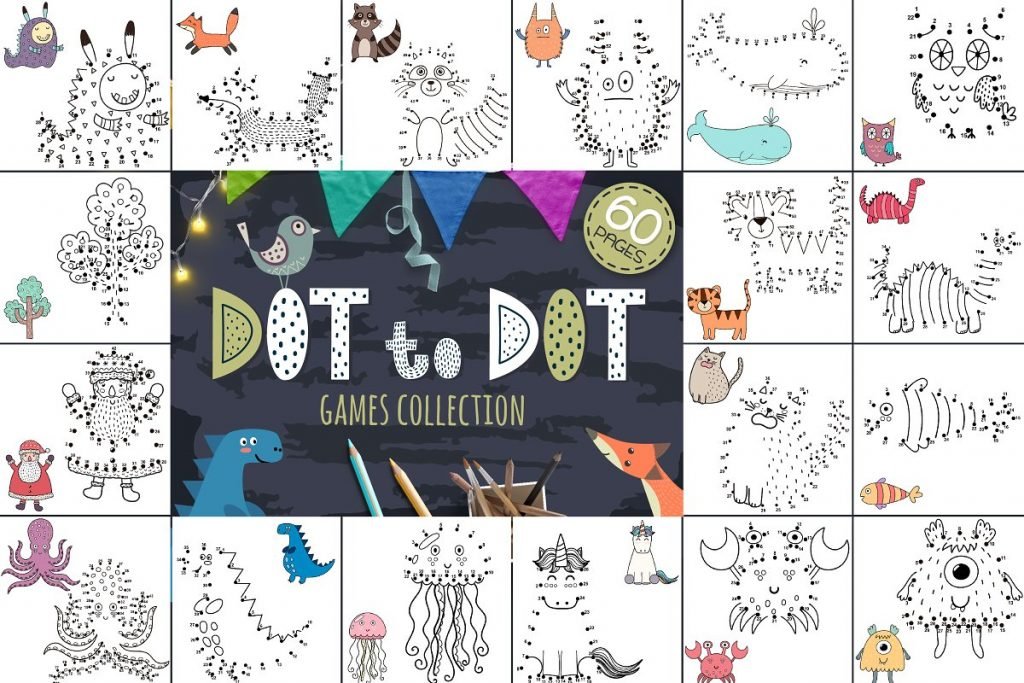 Dot to dot games is fun drawing activities for kids!
It's a great way to teach children numbers and number order.
Kids can connect the dots to complete the outline of the image, and then make it into a masterpiece by coloring it in.
This collection includes 60 worksheets with funny animals and plants.
5. Paper Cut Alphabet
Kids can learn to read or to count with these fun letters and figures.
Pack includes paper cut alphabet plus 8 templates of funny cards.
6. Cards For Learning Basic Colors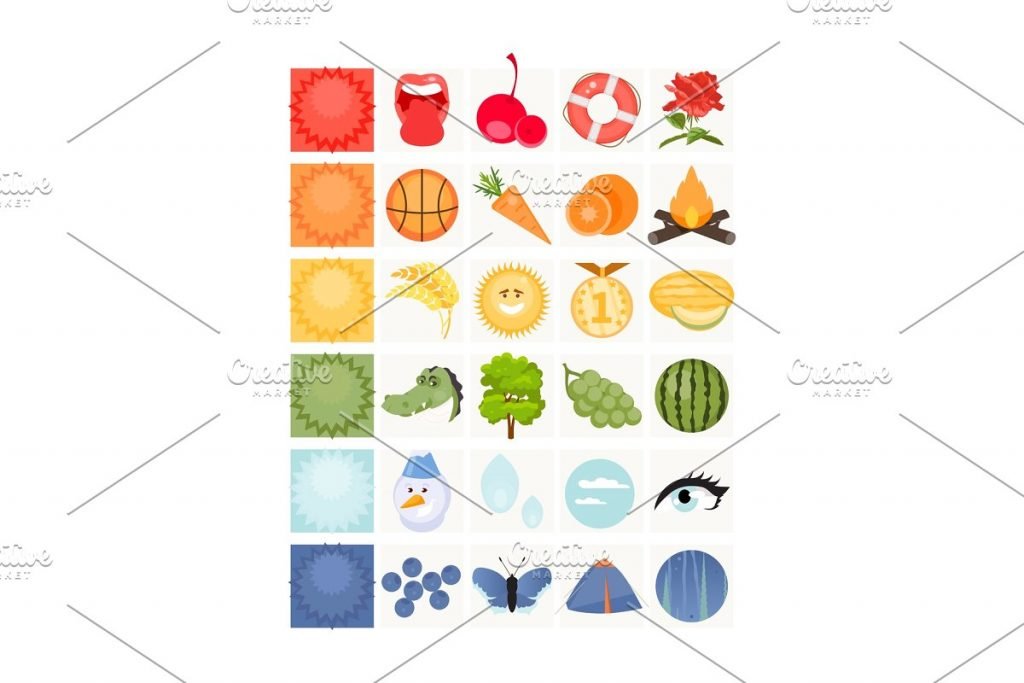 Cards to study the basic colors like red, orange, yellow, green, blue.
7. Educational Games For Kids
This collection contains 164 educational shadow games for kids.
They will learn to recognize characters and patterns by looking at outlines and shadows.
8. Color By Sample
This is a great collection of educational games to teach kids coloring and basic maths equations.
Contains 16 different graphics to play with.
9. Games With Bloks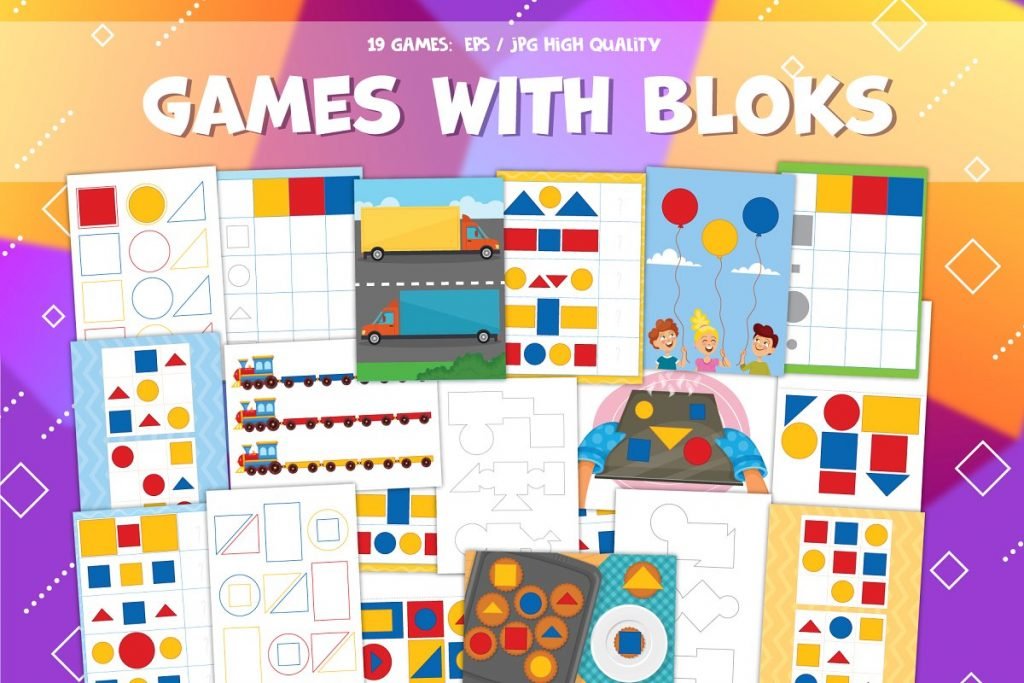 This is a collection of 19 educational games with color blocks.
10. Finish The Picture
Complete and coloring game for preschool and school kids.
Cute funny robot for drawing and education activity.
---
English Language Arts
These graphics and templates make it easy for children to read, write, listen and speak with confidence.
11. Vector English Learning
Each page has the first letter of the animal name with a list of words of each animal or object which is depicted in the illustration.
You can teach alphabetic understanding, enrich vocabulary English and even fluency for beginning readers.
Using this resource you can create an A-Z book as well.
12. A-Z Letter Tracing Worksheet
A-Z letter tracing worksheets to teach kids handwriting practice with UPPER CASE and lower case and learn English vocabulary.
13. Bookbag School Font
Bookbag is a font for teaching kids to read and write. It comes in the following variants:
Regular
Bold
Dotted
Lined dotted
Lined regular
14. The Hours Educational Illustrations
A collection specially designed for teachers or parents to teach their students or their young children how to read the hours in a clock.
These posters are provided in two languages (English and Spanish), so it is great for teaching English and Spanish too.
15. Alphabet Learning With Transport & Animals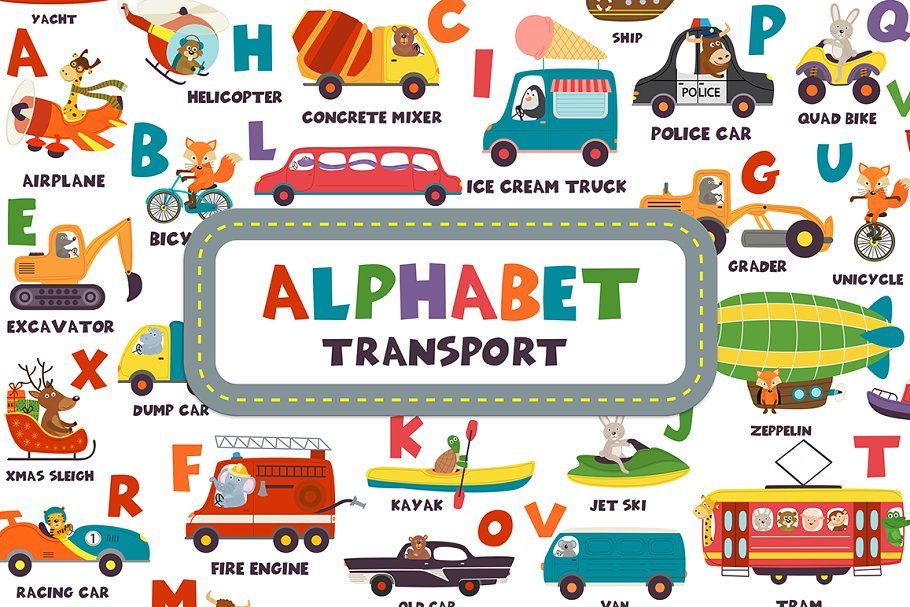 This template can be used for online teaching and learning English alphabets.
There are 26 letters and 26 alphabets cards with transport and animals in this collection.
16. English Language Learning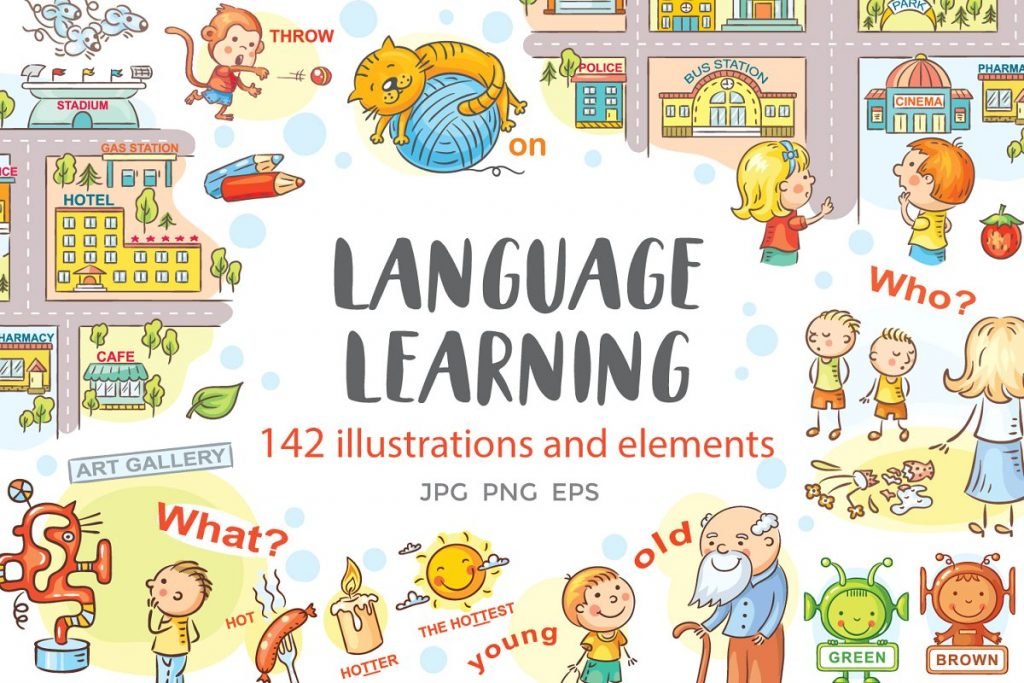 A bundle of 10 sets of illustrations that can be used as a teaching aid while language learning.
Includes synonyms, antonyms, question words, prepositions, etc.
17. Handwriting Practice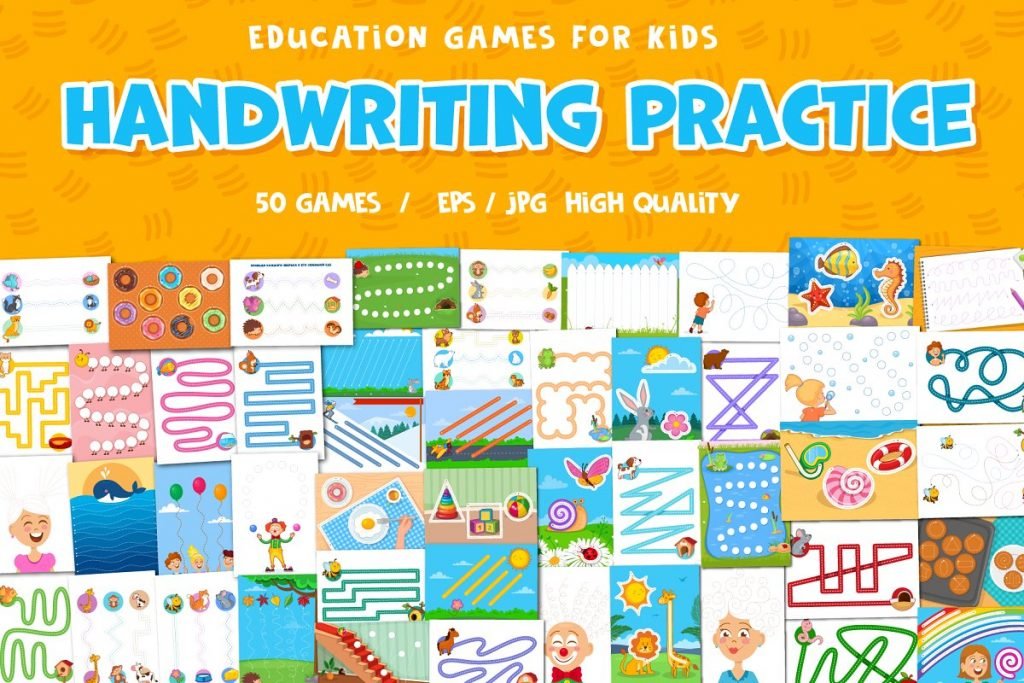 This pack contains 50 handwriting practice worksheets for young ones.
18. Activities For Kids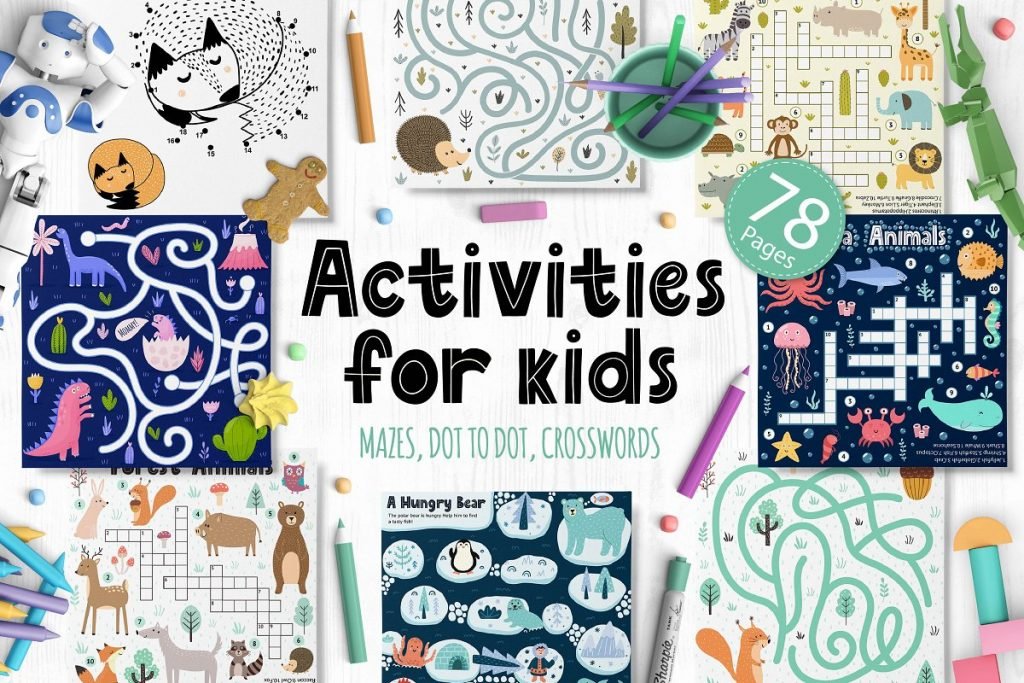 Make learning fun with this big collection of activities for kids.
This collection includes Mazes, Crosswords, and Dot to Dot games.
Maze is a great way to practice fine motor skills!
Crossword games are ideal to help the kids build up their vocabulary.
Besides, dot to dot activities is a great tool for kids who are learning to count.
19. Crosswords For Kids
A crossword activity worksheets for kids to recognize and solve animals name puzzle.
20. Animal Alphabets
A super cute collection of animals for every letter of the alphabet!
Includes 26 animal graphics with letters, and an animal alphabet print.
---
Foreign Languages
Ready-to-use illustrations, worksheets, diagrams, and more to help young ones learn new languages.
21. Welcome Set: 16 Different Languages
Vector illustration of cartoon characters saying hello and welcome in 16 different languages.
Includes English, French, Chinese, Japanese, Spanish, German, Italian, Russian, Hindi, Dutch, Sweden, greek, polish, Turkish, Hebrew, and Portuguese or Brazilian.
22. Hand Wave Icons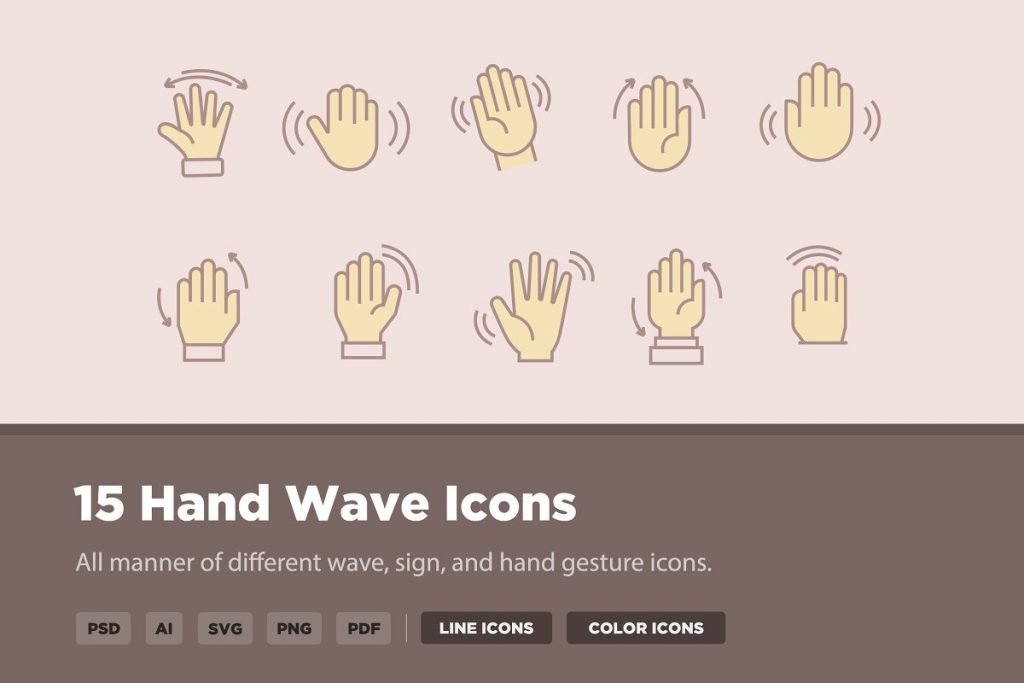 A varied collection of different icons to show different types of hand waving, high-fives, hand gestures, clapping, and sign language.
23. 5 In 1 Special Bundle
This set of templates for online teaching and learning includes:
125 cartoon characters from different countries of all around the world.
Funny cartoon world map with kids of different nationalities, traditional animals of all the continents and oceans, and 21 of the most representative monuments of all around the world.
Set of 10 Great Musicians of History in cartoon style.
Set of 26 Great Philosophers and Thinkers of History in cartoon style.
Cartoon characters saying hello and welcome in 16 different languages.
24. 70 Languages of The World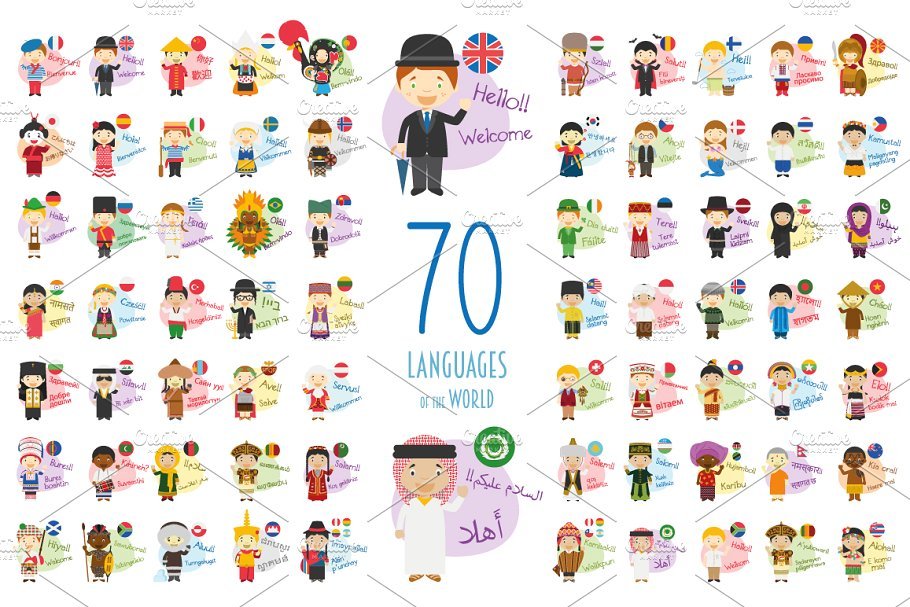 Set of 70 different characters saying "hello" and "welcome" in 70 different languages from all over the world.
Every character is dressed in the typical way of the language it represents.
25. Around The World Patterns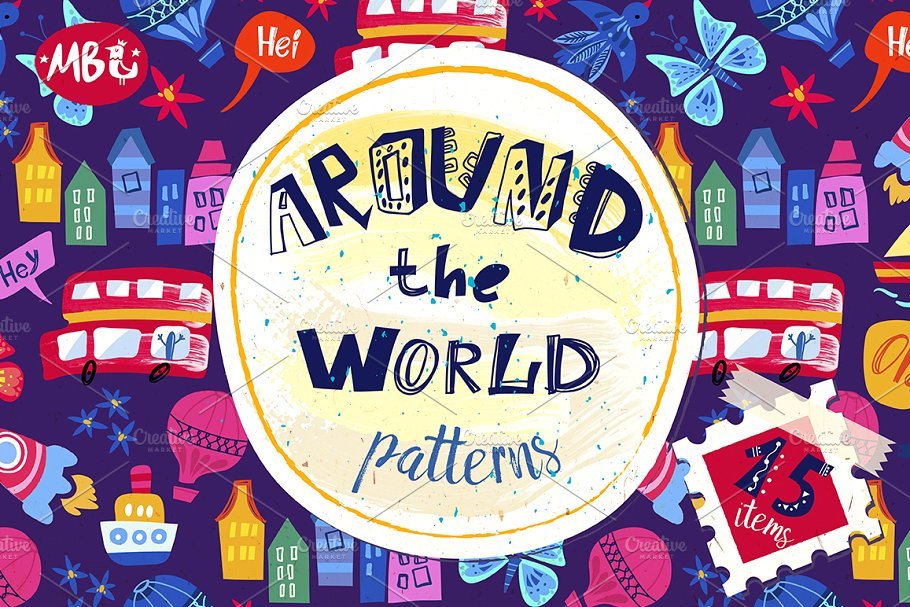 This pattern collection is full of happy moods, joy, and warm emotions from different parts of the world.
Plants from over the world, stamps collection, sea, beach, boats, funny penguin, butterflies, London bus, ice cream, floral suitcase, bright tropical flowers, the word hello in different languages, palm trees, Amsterdam colorful houses, cages and more.
---
Mathematics
Master arithmetic, algebra, geometry, trigonometry, calculus, and mathematical problem-solving with handpicked clip art and worksheets.
26. Cartoon Mathematical Set
A great set of numbers and symbols to teach kids the basics of mathematics.
27. Marine Life Coloring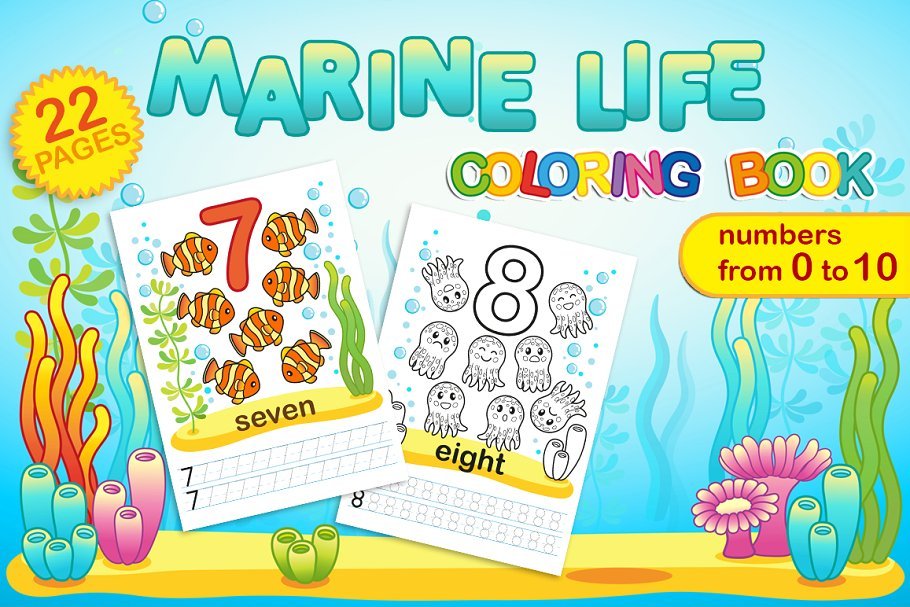 Printable worksheet for kindergarten and preschool.
Bright funny fishes, crabs, jellyfish, seashells, octopus, other marine life, plants, corals on the sea background.
28. Graph Paper Sheets
This pack includes various graph paper styles.
All sheets have been subtly textured, for an authentic retro look.
For those who want to have the clean white files to use as backgrounds, patterns, or to print, all un-textured sheets are also included.
29. Fresh Fruits Count & Color
Fresh fruits count and the color is printable worksheets for kindergarten and preschool.
30. Funny Mathematics Game cards
This is a cartoon boy learning game cards with fruits and vegetables.
An easy counting worksheet for kids.
---
Science
You can use these resources to teach science with visuals featuring physical life, earth, space, and human science.
31. Periodic Table of Elements
A simple and easy-to-understand periodic Table of the Elements.
32. Famous Scientists
A vector illustrations pack of famous scientists.
Thomas Edison, Nikola Tesla, Albert Einstein, Stephen Hawking, Isaac Newton, Nicolaus Copernicus, Galileo Galilei, and Dmitri Mendeleev.
All of them have made a great contribution to science with their inventions, discoveries, and ideas.
33. Human Anatomy For Kids
A Collection of hand-drawn vector anatomical illustrations and seamless patterns.
Human respiratory, circulatory, endocrine, nervous, digestive, skeletal, muscular, and urogenital systems for kids.
34. Space Games
This product is exactly what you need to teach kids everything about space.
It features funny planets, space technics, aerial aliens, UFOs of any kind.
35. Volcano Cross Section View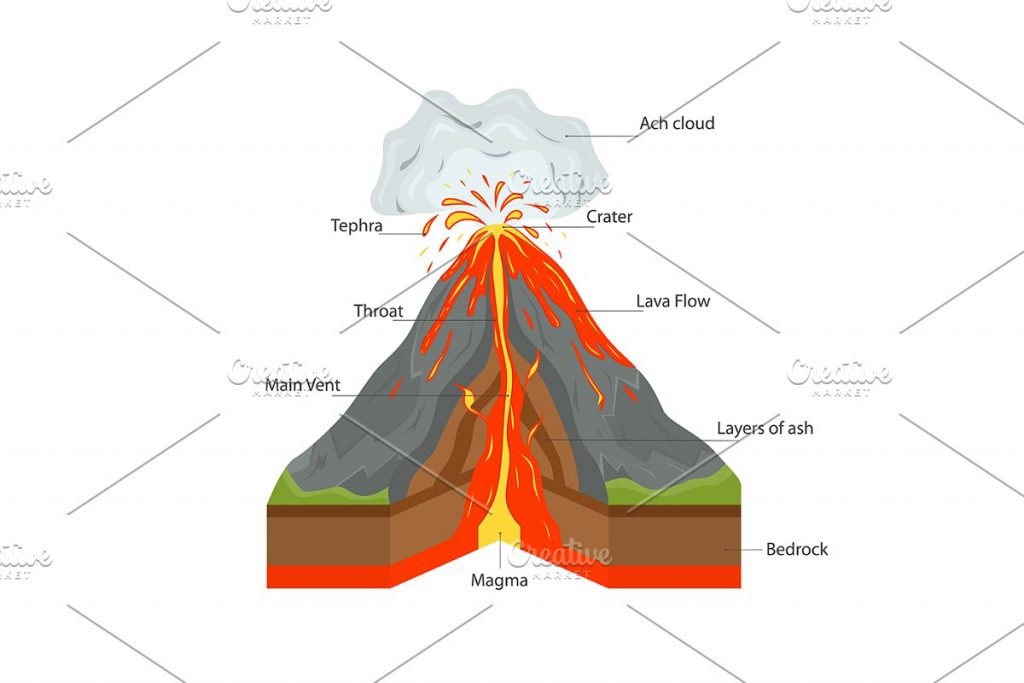 Volcano mountain cross-section view to teaching everything about volcanoes, hot lava, and volcanic ash.
---
Social Studies & History
Explore downloadable maps, icons, and diagrams to educate children on world history and geography.
36. World Map
Detailed and informative world maps to learn everything about countries, states, and borders.
37. Cartoon World Map
Funny cartoon world map with kids of different nationalities, traditional animals of all the continents and oceans.
16 of the most representative monuments of all around the world.
And all of this is decorated with different types of trees and plants, and a boat.
38. American History Infographics
Set of American History Infographics with places for your text.
39. Flags of The World
Beautiful, detailed flag icons for all 282 global countries and territories plus 16 international organizations, with circular, rounded, and square versions
40. 26 Great Philosophers of History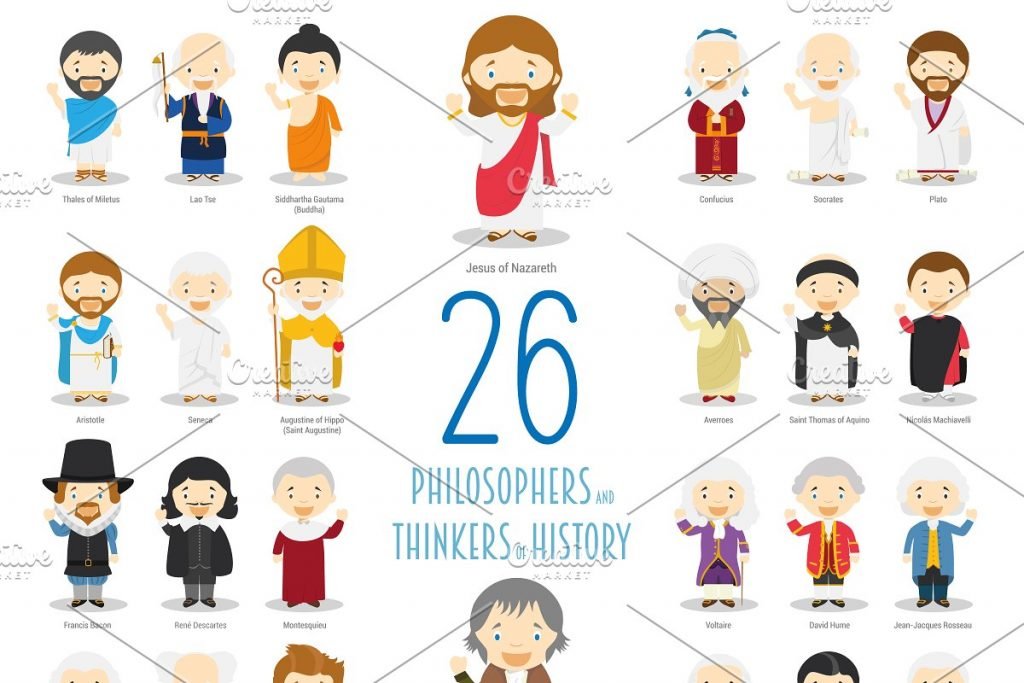 Set of 26 Great Philosophers and Thinkers of History in cartoon style.
41. 60 Politicians & Leaders of History
Set of 60 Relevant Politicians and Leaders of History in cartoon style.
42. 315 World Flags Set
A great collection of 315 vector world flags in 3 styles.
---
Graphics And Templates By Grade Levels
Pre-K To 2nd
Online teaching and learning resources to engage younger learners.
In total, there are 63 activities, planners, and games in this collection.
3rd To 5th
Beautifully designed assets that enhance elementary-level learning.
In total, there are 83 infographics, icons, and patterns in this collection.
6th To 12th
Ready-to-use graphics and templates, ideal for middle and high school students.
In total, there are 71 presentation templates, diagrams and graphics in this collection.
Conclusion
The Internet has made education so easy that students can learn anything from anywhere.
The graphics and templates listed are surely a blessing for educators and students to keep teaching and learning even in times of difficulty.
The world has come together to raise awareness and stop the spread of COVID-19.
Creative Market and all the artists who contributed their work to help facilitate education even during the lockdown are the true faces of humanity.