A list of Top 5 WordPress eCommerce Themes by ThemeForest. Their WordPress Themes are blazing fast, SEO optimized, and unique.
E-commerce is one of the biggest industries with unlimited possibilities and revenue potential. From the biggest brands to the local sellers, all have adopted this technological change and are now selling their products online to the global market.
Earlier, the cost associated with creating a website was very high. Also, the technology was hard to understand and use.
But after the launch of WordPress CMS, a content management system that now powers more than 80% of all the websites on the internet, creating and managing an online business is as easy as pie.
There are tons of both paid and free WordPress eCommerce Themes on the internet available for web developers to create stylish, engaging, and SEO-optimized eCommerce websites.
ThemeForest offers some of the greatest SEO-optimized and AdSense-friendly WordPress eCommerce Themes.
Simply purchase one of the WordPress eCommerce Themes listed below, get reliable and industry-standard web hosting and your online business will be up and running in no time.
Setting up a WordPress eCommerce website isn't easy (but can be done. I do it all the time). So I recommend you go through this 'HOW TO SETUP A WORDPRESS SITE' guide before taking things into your own hands.
1. Bascart
Bascart is a versatile WooCommerce WordPress theme ideal for any e-commerce business or WooCommerce site. Optimized for creating fast online stores, it ensures an excellent user experience.
Fully compatible with the ShopEngine WooCommerce builder, Bascart allows you to easily create and customize a complete e-commerce site using drag-and-drop functionality. With ShopEngine, you can access advanced features like Product Comparison, Wishlist, Variation Swatches, and more.
---
2. CiyaShop
CiyaShop distinguishes itself with its extraordinary features. Boasting unlimited theme options, striking hover styles, and a myriad of layout choices, it allows you to craft a breathtaking experience for our customers while leaving yours astonished.
The theme is packed with a wide array of features, making it an exemplary WooCommerce Theme. There are over 90 complete e-commerce sites, complete with inner pages spanning various categories. With CiyaShop Studio, you can effortlessly build responsive pages without any coding knowledge.
---
3. Flatsome
Flatsome is the ideal theme for your store, company website, or any client projects as an agency or freelancer. It provides all the necessary tools to build highly responsive websites quickly, ensuring an exceptional user experience.
With unlimited options and a revolutionary responsive page builder, Flatsome enables you to create anything without coding.
---
4. XStore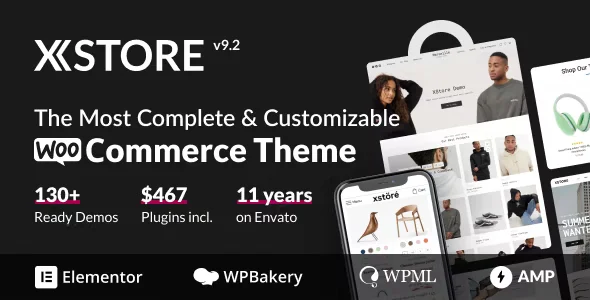 Creating a stunning and functional eCommerce website is effortless with the XStore theme. This user-friendly WordPress e-commerce theme is versatile, catering to a myriad of industries such as electronics, clothing, multivendor marketplaces, fashion, food, jewelry, and many more.
With over 70,000 satisfied customers, XStore is a top choice for anyone aiming to build an effective eCommerce website.
---
5. Blonwe
Blonwe, with its user-friendly and distinctive design, offers everything needed for eCommerce. This versatile WordPress e-commerce theme allows you to swiftly create various stores, including electronics, groceries, fashion, furniture, auto parts, cosmetics, medical, sports, jewelry, books, glasses, kids' items, pets, watches, wine, gardening, toys, coupons, multivendor, and Elementor shops.
Even those without experience in website management can easily establish their own site thanks to the theme's top-notch components.
---
Also, check-out:
---